I'm not exactly a romantic or a nostalgic, but I have to admit that I sure wish summer movies looked a lot more like they did back in the '80s.  There are very few visionaries who take on blockbuster entertainment anymore, and save Christopher Nolan, you really can't sell a movie on a director like you could with fearless masters like George Lucas and Steven Spielberg.  Few movies nowadays can produce the same wide-eyed wonder as classics like "Star Wars" and "E.T." (in my mind, "Inception" is this generation's equivalent).
But J.J. Abrams, the man who made us want to get "Lost" and made "Star Trek" cool again, is definitely trying to bring back some of that Spielbergian magic (and thus put his name on the poster) with "Super 8," a movie that feels like it would have been a great way to spend $3 on a hot summer day in 1982.  It's the kind of movie that a studio lets a director make after they deliver a big franchise hit, a true passion project that proves difficult to market because it has to be sold on Abrams' name and story.  Using his suspense techniques from "Lost," the character development of "Star Trek," and the all-powerful weapon that is nostalgia, Abrams crafts a blast-from-the-past sci-fi movie that brings some substance and style back to a genre that has gone too long without it.
In fact, "Super 8" may be the first neo-Spielbergian movie as Abrams grew up on the director's early classics and is now using his maturity and filmmaking bravura to pay homage and honor to his style.  Yet while imitation may be the sincerest form of flattery, Abrams doesn't just stick to Spielberg's conventions like white on rice.  Rather, he expands upon them and takes them further to make his story appeal to a new generation of moviegoers while also maintaing the timeless appeal that made Spielberg's movies so enchanting.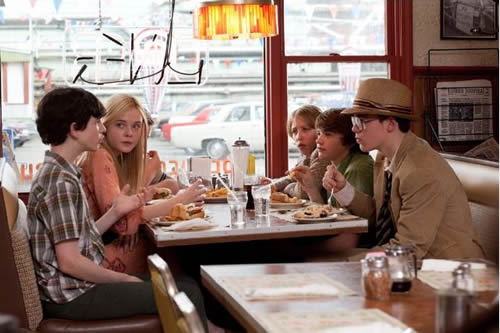 While there are plenty of exciting special effects and other aesthetics for "Super 8" to boast, including a mammoth train crash sequence that should earn Oscar nominations for its impeccable visuals and sound, Abrams makes the story and its intriguing characters the center of his film.  Since the film revolves around a ragtag bunch of pubescent kids in rural Ohio, he places a large burden on the backs of his child actors to deliver, and he manages to elicit some of the finest performances from youngsters I've ever seen captured on celluloid.  They are lively and spirited but also prove quite capable of conveying much darker, deeper emotions – heck, they could even act subtext!
The corps, led by newcomer Joel Courtney and famous sibling Elle Fanning, make the movie – which feels a lot like a wild filmmaking dream Abrams had when he was shooting movies on Super 8 film back in the 1970s – as fun and adventurous as it plays out in its writer and directors mind.  They sneak out to make movies, joyride without drivers licenses, and enjoy the freedom of summer with a menagerie of other kids, including a pyromaniac and an aspiring Hitchcock.  But when a train derails and unleashes some strange lifeform, the teens have to confront many harsh realities, particularly Joe (Courtney) and Alice (Fanning), whose familial tensions reach a boiling point amidst the chaos in the town.
Abrams relishes in the slow and suspenseful unraveling of both the mysterious creature terrorizing Lillian, Ohio and the specifics of the drama that drives a wedge between the juvenile protagonists.  The movie provides a great balance of both alien action and coming-of-age drama, making it a movie that can satisfy just about anyone.  While the plot may spell out its influences a little too directly for some, I'd much rather see an ambitious, capable director like J.J. Abrams fall slightly short of Spielberg's heights than watch yet another neophyte director imitate the worn-out comic book adaptation style that has so grossly propagated in movie theaters.  Quite frankly, it's time for everyone to drop their cameras and take some lessons from Abrams because only then will quality and vision become the new normal in big-budget movies.  A- /